Oregon is known for its vivid green forests and abundant water supply from rain and natural rivers. However, in recent years, even our lush state has fallen prey to issues like drought and has struggled to match the growing population's demand for more water. Agricultural irrigation service providers like Stettler Supply Company play a pivotal role in helping farmers implement more efficient equipment and technology to alleviate this pressure and prioritize water conservation.
Stettler Supply and EQIP
Farmers and ranchers have a unique responsibility to manage their local environment's precious natural resources. Businesses like Stettler Supply can help them take advantage of various programs on the federal, state, and local level to implement sustainable water conservation practices. Among these is the Environmental Quality Incentives Program (EQIP), the National Resources Conservation Service's (NRSC) chief conservation program.
EQIP offers financial assistance to farmers, ranchers, and forest landowners for the purpose of incentivizing conservation practices that will protect natural resources. Some common EQIP goals include increased soil health, improved wildlife habitat, and of course reduced water waste. Taylor Meyer and Nolan Grimm, co-owners and vice presidents at Stettler Supply, understand the importance of water conservation in Oregon and have used EQIP to help farmers across the Mid-Willamette Valley access more efficient irrigation solutions and systems. "The program makes efficient, modern technology and equipment affordable to farmers," says Nolan. "Without it, not as many farmers would be able to utilize pivots, linears, drip irrigation, variable frequency drives, and such."
Water Conservation in Action
Taylor and Nolan have been leveraging EQIP to support local farmers long before they took the reins at Stettler Supply. "We have produced marketing materials and implemented relational marketing strategies on EQIP and have been doing so for years," says Taylor, Stettler Supply's owner and vice president. But Stettler Supply's new owners have done much more than distribute brochures and pamphlets, they've actively assisted farmers by educating them on the program and even facilitating the farmer's connection with NRCS. "We've promoted NRCS programs not just by bringing it to the table, but by helping farmers pick up the phone, start the conversation, complete the paperwork, and make themselves available for the funding."
Following the application process, Taylor and Nolan continue serving their customers, by helping them implement NRCS-advised conservation practices and irrigation-efficient upgrades. When the team exchanged high-pressure big gun irrigation for a more modern, low-pressure boom irrigation system at Mount Hope Seeds in Molalla, the farm was able to water their crop with far less energy in far less time. For Sinn Farms and Eden Fruit Farms, they minimized water runoff and evaporation by installing an entirely new system, complete with drip irrigation, automation, and more. With upgrades like these, farms are more sustainable, farmers are more profitable, and natural resources are better protected.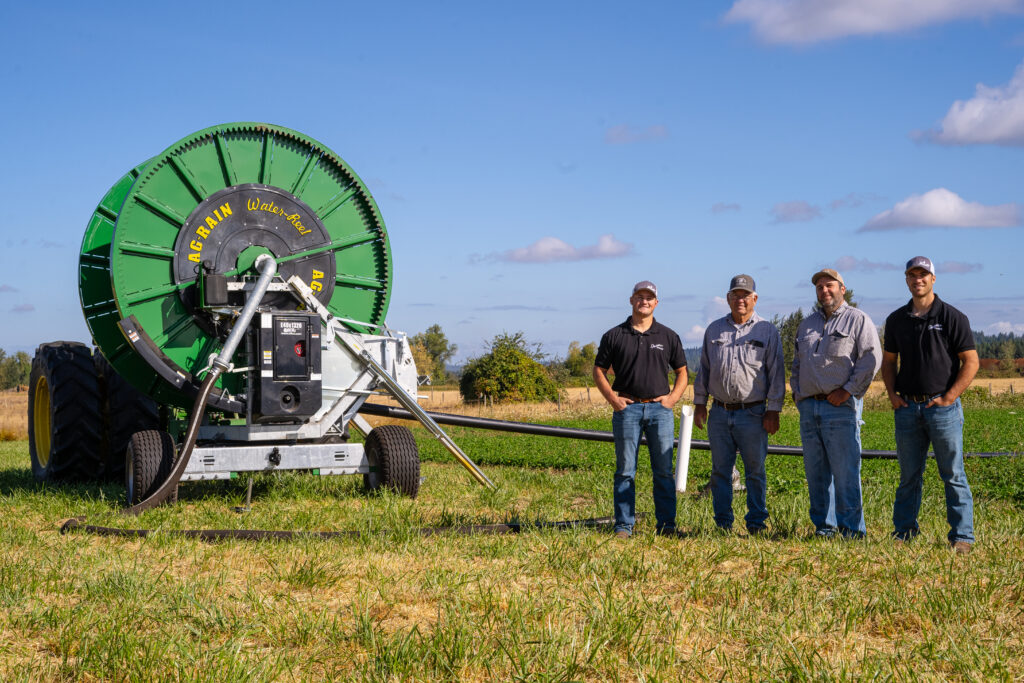 Sustainable Water Management for the Future
The benefits of this program are far-reaching, impacting not only the agricultural operations and crop yields of an individual farm but also the broader health and vitality of the surrounding environment. With a host of new customers and opportunities at Stettler Supply, Taylor and Nolan are excited for the benefits EQIP will offer even more farmers as well as the general population of Oregon. "At the end of the day, the more efficient that everyone can get at using their water, the less water we'll use," says Nolan. "That's the end goal."
Prospective applicants can contact the team at Stettler Supply to begin collaborating with their local NRCS office, schedule a site visit, and ultimately prepare a customized conservation plan for their farm.